Blogs
Why Clarinets?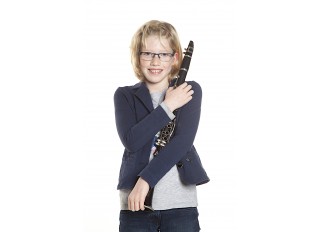 The answer is simple. We love clarinets.
But you say what about drums? Every kid loves beating on drums. Why not drums. Or, what about guitars? So many kids want to be rock stars, why not guitars? Or what about... insert any instrument here.
There is nothing wrong with drums, or guitars, or any other musical instrument, for that matter. They all have their place.
I grew up playing trombone and am still enthralled by the music of trombonists Glen Miller and Tommy Dorsey. But there is just something different about clarinets.

Again, I could say the answer is simple, we love clarinets. But of course, there is a bit more to it than that.
We don't just love clarinets:
We love clarinets played with heart and soul.
We love plastic clarinets, resin clarinets, wood clarinets, and surprise, even metal clarinets.
We love clarinets played by seasoned pros, dedicated amateurs, and, believe it or not, rank beginners.
We love clarinets of all sizes—piccolo, soprano, alto, bass, and contrabass.
And, we love clarinets pitched in any key—A, Ab, Bb, BBb, C, D, Eb, EEb.
They all have their attractions.
But mostly we love the range of emotion that can so easily be expressed by a well played clarinet in all its forms.
Consider a few examples:
Who isn't moved by "Michael Collins: The Lyrical Clarinet"?
Collins' silky smooth, warm, solidly delivered melodies sing from his soul to ours in a way only a clarinet could. Collins' clarinet evokes a range of emotions including joy and melancholy, happiness and sadness, surprise and comfort in a uniquely satisfying way only possible with a clarinet.
Who could forget the opening clarinet solo from George Gershwin's Rhapsody in Blue?
Could that possibly be played on anything other than a clarinet? Perhaps, but it just wouldn't grab our attention and lead us into the feeling so obviously in Gershwin's heart the way the clarinet uniquely does. Rhapsody in Blue without that iconic clarinet slide and trills just wouldn't be the same.
What classical library would be complete without Mozart's Clarinet Concerto in A major, K. 622?
Sharon Kam's rendition of Mozart's Clarinet Concerto on her gorgeous Basset Clarinet accompanied by the Czech Philharmonic Orchestra brings a warm smile to our hearts. We never tire of of hearing the full range of clarinet tones employed by Mozart in his composition designed to spotlight the clarinet voice.
It seems obvious Mozart loved the clarinet also.
And I just can't imagine the big band jazz era without clarinetists Artie Shaw and Benny Goodman.
If you don't know the music of Artie Shaw and Benny Goodman, think of World War II. Ask your Grandparents or Great Grandparents about the music they remember from the 1940s. It's quite likely the Grandparents, or maybe Great Grandparents, of many of you met on a dance floor swinging to tunes like:
Begin the Beguine
Stardust
All The Things You Are
Moonglow
It's a Long, Long Way To Tipperary
The Man I Love
Oh, Lady, Be Good
One O'clock Jump
Sing, Sing, Sing
We'll Meet Again
Blue Skies
The Sheik of Araby
In The Mood
Sweet Georgia Brown
It Had To Be You
I Got Rhythm
Don't Be That Way
Sunrise Serenade
Smoke Gets In Your Eyes
and many more
Any who served in the American Military during World War II will remember the Armed Forces Radio Network that brought a touch of home to lonely GI's through music and humor.
Much of that music was colored by the unmistakable sound of big band clarinets.
But it's more than just music. Classic clarinets are a tangible link to the past. We work to keep that link alive by seeking out classic clarinets of all types to refurbish and give new life. You can see our current collection of overhauled, classic clarinets available for sale in the woodwind department of our web site.
What could be better than playing "Don't Be That Way" on the same model clarinet used by Benny Goodman? Or starting your daughter's clarinet music discovery on the very same clarinet played by your Grandmother when she was in middle school?
And, while playing the clarinet well is more than a little challenging, that is a large part of its charm. Who doesn't love a little challenge? If playing the clarinet was easy, everyone would do it, as the saying goes.
Anyone who is able to make beautiful, touching music on a clarinet has devoted significant time to develop the skill. We salute you.
Yes, we love clarinets and hope you do too.
Jonathan Carter
General Manager
Tonic Suite Music
Please share your memories of clarinet music and tell us why you love clarinets in the comment section below.
—§—
Read More by Jonathan Carter